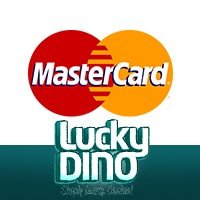 Who doesn't know about MasterCard? If you're an online shopper or an online gamer, it's inevitable to come across this reputable establishment. A well-known financial brand even beyond the World Wide Web, people prefer transacting with MasterCard for a reason. Hence, it's also the reason why the LuckyDino Casino MasterCard is a prevalent payment method in this casino!
It's MasterCard
Considering it's a trusted brand worldwide, you know security is the least of your concerns. You will also feel secure whenever you make a transaction because you know all your previous business with MasterCard has been a-ok, and the same goes for your experience with LuckyDino Casino. To add to that, it's a fact that this casino runs on SSL or Secure Socket Layer encryption technology. Rest assured all your info is 100% safe!
Depositing with your MasterCard
If you want to begin a real online casino journey, the only way to start is by making your first real deposit. For as low as €25, and as much as €5000, you can instantly credit the amount to your casino account. Other than the instant processing time, there is also no processing fee to be paid.
Claiming your winnings via MasterCard
Compared to the deposit method, a MasterCard withdrawal's processing time will take longer than usual. It takes 1-5 banking days to process, and a fee might be added after the first free withdrawal of the month. The fee entails a minimum of €2.5-€25 max at 3%.
Even though the withdrawal time takes a while to process, there's no dispute about it that this casino will make it worth the wait. If you're aiming for a worry-free banking experience, you just know MasterCard is the way to go.
Let your luck begin! Sign up now and make your first deposit via LuckyDino MasterCard!

Last updated on July 2, 2020