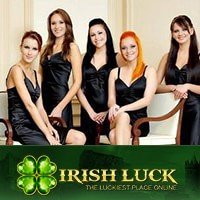 It's normal to be amazed when you see our Irish Luck Casino game inventory. They have a wide range of slot machines, table games, video pokers, specialty games, and more to choose from. Nonetheless, there are times when players want to switch from simulated casino games to authentic ones that are played in a live casino. That's why many are asking if an Irish Luck Casino Live Casino will be launched in the future.
Coming soon!
Currently, Irish Luck Casino does not offer a live casino. However, they are affirmative that sooner, they will be able to provide one to give their players a realistic gaming environment while maintaining convenience. After all, no one would want to miss the fun and excitement of playing with live dealers at real tables in their own living room.
Exclusive Bet Casino
On the other hand, players who want to experience a live casino gaming action are referred to Irish Luck Casino's sister brand – Exclusive Bet Casino. In this site, players will find a rich selection of live casino games like Roulette, Blackjack, Baccarat, and Casino Hold'em. For more enjoyment, the casino also offers a special VIP version of games.
Quality Gaming
Moreover, aside from attractive and experienced dealers, players can be assured that the real time video streaming comes in a high-definition quality. There are also special features that allow them to get a prompt and fun experience. Apart from the top-quality gaming equipment, there are effects that enable players to see in which compartment of the roulette the ball ends up, and of course, the card values the dealer and player have in hand.
Certainly, there is still a big chance that Irish Luck Casino Live Casino will be accessible for everyone. While this is not yet offered on their gaming platform, players can always get the most out of over 110 fair and exciting Irish Luck Casino games that can bring their dreams of becoming a big winner to reality.

Last updated on February 7, 2023