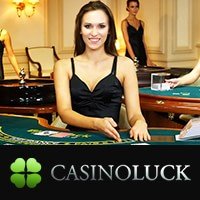 Are you ready for an authentic casino experience right from your computer screen? That's right—CasinoLuck Live Casino is FINALLY here! Try this brand new experience and see what it feels like to play with real dealers and for real money. CasinoLuck will make those Las Vegas dreams come true and give you the best gaming of your life!
Presenting 24 Active Tables!
We know you've got preferences. The CasinoLuck games boast over 800 titles, after all. Hence, the casino has made it a point to give their live casino aficionados variety as well. As of this moment, you can check the following tables open to players below:
Roulette: 5 tables
Blackjack: 15 tables
Baccarat: 2 tables
Casino Hold'em: 1 table
Poker: 1 table
As you can see, these tables are limited, so you better create your account now and join in on the fun! You don't want to miss out on winning amazing cash prizes and more.
Gaming Schedules
When you visit the Live Casino page, you will notice different tables with their corresponding croupier. You can spot the schedule on the lower right corner of each box in golden buttons. Game schedules vary, but most are open 24/7, while others vary (e.g. UTC 17:00-01:00) to accommodate players from around the globe.
Wagering Limits
Whether you're a high roller or not, you're most welcome to play in CasinoLuck. Betting range is as low as €0.50 to €5000. Surely, you don't want to miss out on these exciting chances to win.
Have no doubt about it. CasinoLuck is the place where you can make the most of your gaming experience and get the chance to win big money too! With just a click of a button, you can access the casino's Live Casino—no software download necessary. Sign up now and see what it's like to win in a live casino!

Last updated on July 2, 2020