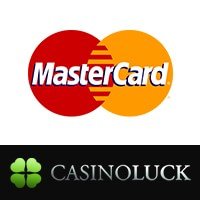 The CasinoLuck MasterCard mode of payment is one of the many banking options available to online casino players around the world. Fast and simple, it's no surprise that most players prefer to use this to fund their casino accounts—it helps that almost everyone has a MasterCard in their pockets or wallets.
Why use MasterCard?
Using a MasterCard in making financial transactions online is as easy and fast as switching on a light. No wonder it has become one of the most popular payment options accepted in numerous online platforms, including online casinos. It processes more than 23 billion transactions every year and small portion of it is made up of individuals making a deposit to their online casino accounts.
Depositing with CasinoLuck Mastercard
Follow the easy steps below to conduct a quick transaction with MasterCard:
Go to the 'Banking' page.
Select the 'Deposit' option.
Choose 'MasterCard' under the Credit Cards category as their payment option.
After this, players will be asked to provide certain information like the currency and amount, in addition to card number, cardholder name, card security code, and expiry date.
Click 'Continue' to send the request. The transaction is free and processed almost instantly, so players can expect their funds to be credited in as fast as a few seconds.
MasterCard Intercash
On the other hand, users of CasinoLuck Mastercard issued by Intercash will be required to click a link to be directed to the correct deposit page. They will be asked to register the card using the card number and the secret access code. Then, the CasinoLuck deposit will be processed and the fund will be topped up to the players' bankroll automatically. The minimum transaction limit is €10 and maximum is €5,000.
It is also important to take note that MasterCard cannot be used as a withdrawal method at CasinoLuck. Players who used this to fund their account will receive their payouts through bank transfer. More than that, even though personal and financial credentials are required, players can still be assured of security and privacy since these are protected by the latest 128-bit encryption technology.

Last updated on July 2, 2020